Newest, beautiful, single women now added for week of Wednesday, 9 June, 2021 - Tuesday, 15 June, 2021
During this COVID-19 crisis, be assured we are still working daily to ensure your success!
Acapulco Vacation | The Best Hotels in Acapulco Mexico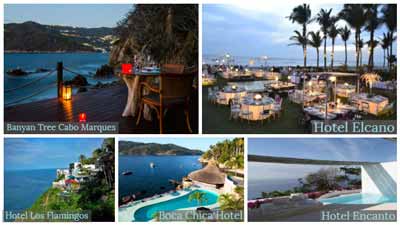 Over the years, the city of Acapulco Mexico has garnered a reputation that spanned through both ends of the spectrum. At some point, it was touted as a playground of the rich and famous but eventually gained notoriety due to the upsurge in gang and drug-related violence.
Today, however, Acapulco tourism is back to its former glory. Like in its heyday, this lively and dynamic tropical paradise off the Pacific coast of Guerrero state in Mexico is drawing tourists by the millions each year again. With all the fun you can get within its city borders, it is no surprise that tourists flock here year after year.
After all, it's not just pristine white sand beaches and hot Mexican women that you'll get to see and enjoy in the city, but you'll also get to experience world-class Mexican hospitality. With that said, here are 5 hotels in Acapulco that will surely make your stay memorable and worry-free:
Hotel Encanto

Hotel Encanto is a one-of-a-kind luxury hotel. This art gallery slash hotel is the place to be for art lovers. The place is dotted with the works of famed Spanish artist Fernando Bermejo. Not only are its interiors a work of art, but the hotel is a masterpiece in itself.

Set high up on the cliffs of Acapulco and immersed in the lush jungle, it has everything that well-heeled travelers could want for a vacation. The mesmerizing pool compensates for this hotel's lack of access to the beaches in Acapulco, as it has an infinite ledge that overlooks the Pacific Ocean. According to architect Miguel Angel Aragones, the hotel is an homage to the ocean.


Boca Chica Hotel

Acapulco's splendor and heyday may have been during the '50s, but reliving it is possible in Boca Chica Hotel. Reopened in January 2010, the hotel has preserved its exterior, which will take you back to old Acapulco times. Its straight-out-of-mid-century set lets you lounge around the poolside and enjoy the views over Roqueta Island. Inside the hotel is a beautiful '50s-inspired interior with a tinge of modern touches. The hotel will definitely let you know that the city still has its glam from wayback.


Hotel Los Flamingos

Built in 1930s, Hotel Los Flamingos is situated high up on the highest cliffs of the Acapulco coastline. With its fantastic ocean view, as well as the picture-perfect sunset view mixed with the cultural and historic vibe of Acapulco's Golden Age, this hotel is a place not to miss when you travel to Mexico for the beach and fine cultural experience.


Hotel Elcano

Among the plethora of Acapulco beach resorts and hotels, Hotel Elcano is a great example of a true traditional Acapulcan beach hotel. Although it has been modernized to keep up with the times, it still has that vintage and traditional atmosphere. Relax under one of the palapas and enjoy the beautiful Acapulco Bay. A flashback to the Acapulco of old brought into the present day.


Banyan Tree Cabo Marques

Banyan Tree Cabo Marques is a five-pearl resort located in Acapulco's fashionable Diamante neighborhood. The villas are built into the cliff side offering its guests an abundance of vantage points, from which to admire the lovely view of the Pacific. These opulent villas beautifully blend the brand's trademark Asian decor with delicate Mexican accents. With a striking ocean view, exceptional restaurants, and a wonderful spa all combined to create an experience unparalleled elsewhere in the city, it is no surprise that this hotel is regularly featured in Mexico's list of best hotels.
As a resort city, Acapulco offers a wide array of choices for your preferences in accommodation. But these 5 are the creme de la creme of what Acapulco has to offer.
If you're already considering taking a trip to the city, here's a great tip for you: join our romance tours. Not only will we take care of your accommodation in Acapulco's top hotels and resorts, but we'll also plan out your itinerary and other travel essentials and the best part about it is that we can arrange dates for you with a beautiful Mexican woman of your choice.
Check out our tour schedules now! Who knows your vacation to Acapulco might just lead you to meet the woman of your dreams.

Newest, beautiful, single women now added for week of Wednesday, 9 June, 2021 - Tuesday, 15 June, 2021
You have to meet the women to marry them! We have group singles tours departing nearly every month!