Newest, beautiful, single women now added for week of Wednesday, 9 June, 2021 - Tuesday, 15 June, 2021
During this COVID-19 crisis, be assured we are still working daily to ensure your success!
Travel to Mexico | Why Visit Acapulco During Wintertime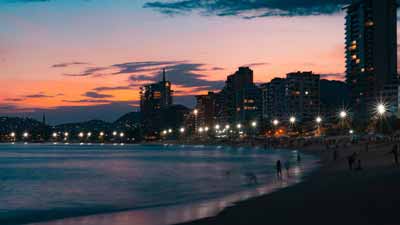 When you travel to Mexico, make sure to stop by Acapulco City. This port city (which is 180 some miles south of Mexico City) boasts lush beaches that caught the eye of Hollywood's big shots during the 1950s. Today, the city is known for its beachfront clubs, bars, and hotels.
Your trip to Acapulco would not be complete without experiencing the city's vibrant and lively nightlife. This could also be the perfect opportunity to meet and mingle with beautiful Mexican women.
Are you convinced that you should go to Acapulco? If so, there are some things you need to know traveling to Mexico. Because of the climate, you can visit just about anytime. However, it would be better to go during wintertime in order to beat the cold during the holidays. Aside from that, not many people visit the city during December. That means it'll be a lot less crowded. Here are some other reasons to visit Acapulco this winter season:
Stay active
Lounging at home during wintertime can make you feel miserable. If staying at home makes you restless, then a trip is the solution you need to get up on your feet. When you go to Acapulco, snorkeling and diving aren't the only activities you can do. If you are up for a bolder adventure, then how about jet skiing, windsurfing, paragliding, and even kite sailing. If you prefer something more laidback, kayaking is also an option. Whatever you decide to do, there are plenty of activities you can try to keep you moving.


Rest and relaxation
On the other hand, a trip could also give you that much-needed downtime especially when you've been hard at work. The city has numerous resorts that offer massages, meditation, saunas, and other relaxation options. Or you can simply unwind at the beach and soak up some sun.


Fun and entertainment
As mentioned earlier, Acapulco is home to some of the best clubs and bars in the world. But if club and bar hopping isn't your kind of entertainment, there are other ways you can still have fun.

For example, during the day you can stop by the Acapulco Botanical Garden if you are into nature. If you are a culture or history buff, you can visit the Acapulco Historical Museum of Fort San Diego or the Mural Diego Rivera. Acapulco has plenty of fun stops to choose from.


Meet new people
One of the perks of traveling to another country is meeting new people. When you arrive at Acapulco, you'd be pleased to find just how hospitable the locals are. And don't forget how beautiful Mexican ladies can be as well.
You get to experience all these things and more when you travel to Mexico during the winter. And when you join one of our singles tours, not only do you get to travel but also interact with our beautiful female members. One of them might turn out to be the woman you spend the rest of your life with.
If you want to see just how beautiful the women you'd potentially be meeting during our tours, sign up today and browse through thousands of profiles of beautiful single Mexican ladies here on our site.

Newest, beautiful, single women now added for week of Wednesday, 9 June, 2021 - Tuesday, 15 June, 2021
You have to meet the women to marry them! We have group singles tours departing nearly every month!