Newest, beautiful, single women now added for week of Wednesday, 9 June, 2021 - Tuesday, 15 June, 2021
During this COVID-19 crisis, be assured we are still working daily to ensure your success!
Mexican Dating | Acapulco's Most Scenic Restaurants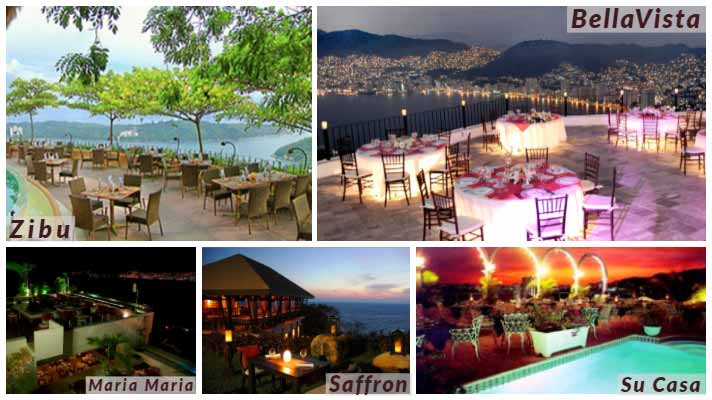 Blessed with an all-year-round tropical climate, gorgeous white sand beaches and turquoise blue water, it's really not that hard to see why Acapulco Mexico has gained global notoriety as a playground of the rich and famous. While the Acapulco beach life is what makes the city such a fabled tourist destination, it's not the only thing that Acapulco has to offer.
The city is also home to luxury hotels, picturesque landscapes, wild and vibrant nightlife, and perhaps the most underrated aspect of Acapulco tourism, a mouth-watering culinary scene. From budget-friendly food stalls to high-end luxury restaurants, you'll surely have your fill, both in gastronomic and natural wonders, in Acapulco.
While you could probably get good food almost anywhere in the city, dining in a place that offers not just good food but also a great view is an entirely different experience. This is especially true if you intend on meeting and dating Mexican women during your trip. So learning the most romantic restaurants in the city would surely pay off in making your Mexican dating experience more worthwhile.
Here are the most romantic and scenic restaurants in Acapulco:
BellaVista

Located in Las Brisas Hotel, the BellaVista restaurant offers an amazing view of the Acapulco Bay. On top of its excellent service, BellaVista is also known for its plentiful menu options and an extensive wine selection. The live piano makes the ambiance of the restaurant even more romantic than it already is.


Zibu

Regularly featured on Acapulco's list of top restaurants, Zibu offers delicious Thai seafood dishes with a twist of Mexican flavor. Not only is the food a culinary masterpiece, but the restaurant's ambiance is something to die for as well. Its entire design focuses on natural elements such as wood, bamboo, and stone. It's also known for having a great view of the sunset as the majority of the seats are on the patio.


Saffron

The quality of Acapulco resorts can often mean some of the best food and dining experiences can be found in their affiliated restaurants. One great example of this is Saffron, a part of the Banyan Tree Hotels. Their Indian and Thai foods are to die for. Top that with a spectacular view of the sunset, Saffron is the perfect spot if you want to take the date to a whole new level


Maria Maria

Maria Maria is a Mexican-themed fine-dining restaurant known for great cocktails and a stupendous view. It is also known for its impeccable service and luxurious dining experience. The place may not be cheap but it offers the ultimate gastronomic indulgence that'll surely justify the price.


Su Casa Su Casa Restaurant sits atop a hill with a panoramic view of Acapulco Bay. It boasts a dining terrace that is adorned with a tropical garden. Built in 1971, the restaurant is now considered an institution in Acapulco.
Dating a Mexican woman in any of the restaurants mentioned above will surely make for a date unlike any you've experienced before. Imagine a stunningly gorgeous Mexican girl sitting at the opposite end of the table while indulging in great food and enjoying an amazing romantic view. Nothing could be more romantic than that.

Newest, beautiful, single women now added for week of Wednesday, 9 June, 2021 - Tuesday, 15 June, 2021
You have to meet the women to marry them! We have group singles tours departing nearly every month!