Newest, beautiful, single women now added for week of Wednesday, 9 June, 2021 - Tuesday, 15 June, 2021
During this COVID-19 crisis, be assured we are still working daily to ensure your success!
Acapulco Tourism | A Tropical Paradise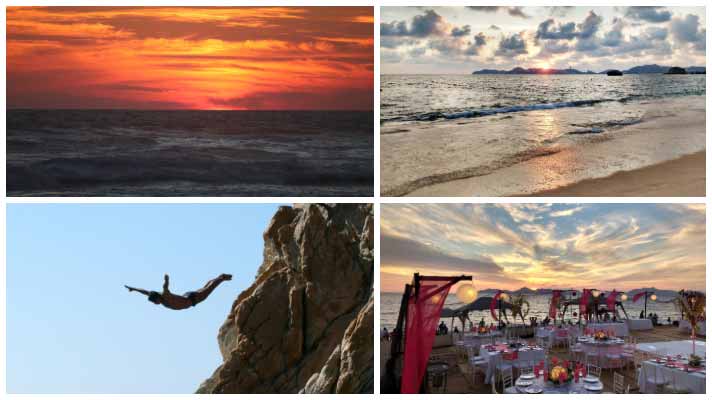 Acapulco is located on Mexico's Pacific coast and is known to be the country's first major tourist destination. It is a great beach destination where you get to fully enjoy fine white sand beaches and the tropical vibe. It is situated on a semi-circular bay that is highlighted by traditional architecture on one side and luxury high-rise hotels on the other.
Although it is predominantly known as a port-of-call for cruise ships plying the southern Pacific waters and is famous for its world-class beaches, there is more to Acapulco tourism than what meets the eye:
The Beaches

Beautiful beaches are Acapulco's primary crowd-puller and tourism draw. Acapulco resorts were once frequented by Hollywood stars, royalties, millionaires and basically every who's who in the world of showbiz, fashion, politics, and business.

Despite the city's violence and drug-ridden history, any Acapulco beach will still surely mesmerize anybody who will get to experience it. Even if the city somehow lost its fame and glamour, one thing that it never really lost is its naturally beautiful tropical landscape.

A nature lover's haven

Not only is Acapulco a paradise for beach bums, but nature lovers will also rejoice in its lush greenery and diverse wildlife. There are tons of nature parks within the city and the city limits.

Acapulco also has a wide variety of animal species both inland and in water just waiting for you to discover. There are various trekking and hiking trails that will get you close to nature and an even wider array of diving sites to experience its rich and beautiful marine ecosystem.

The Culture

Acapulco's rich heritage gave way to a distinctly colorful and jubilant culture. It is evident in its festivals and various other celebrations. One of the festivals that you should never miss seeing is the Dia de Los Muertos or "The Day of the Dead" which is celebrated all over Mexico.

Dia de Los Muertos is the Mexican of equivalent the USA's Holloween celebration. Mexican people will normally visit their dearly departed's graves and set up a picnic and other fun activities to honor their memory.

The People

While you're in Acapulco, you certainly won't be able to help but notice the sea beautiful Mexican women just casually roaming around the city. Because it is also one of the most visited places by local tourists, Acapulco isn't just the perfect getaway paradise, but also an ideal place to meet beautiful and stunning Latinas in.

The people of Acapulco are also generally very friendly. They welcome tourists and guests with their signature warm Mexican hospitality.

The Nightlife

To say that Acapulco's nightlife is vibrant and full of life is a major understatement. The proper adjective should be wild, wet and a ton of fun.

The city's unassuming beach vibe just dramatically transforms into an entirely different party animal as soon as the sun sets. If there are two things Acapulco's nightlife can be characterized by, that would be tons of booze and booty.
Acapulco is indeed a great choice for people who want to escape reality for a while. Whether you're visiting for leisure, business, or to find yourself a beautiful Mexican girlfriend, the resort-studded city of Acapulco Mexico will surely not disappoint.

Newest, beautiful, single women now added for week of Wednesday, 9 June, 2021 - Tuesday, 15 June, 2021
You have to meet the women to marry them! We have group singles tours departing nearly every month!